Below is the list of well-known guest friendly guest houses Pattaya. For hotel options, check my other post guest friendly hotels Pattaya and also Pattaya girls guide – tips, prices, locations.
Why book a guest house for your Pattaya trip?
They are basic and don't offer many extras. However, they have two main advantages over hotels. First of all, they are cheap. The second reason is that most of them will allow you to bring two girls at the same time to your room. All listed guest houses are located within walking distance to the most famous party areas Walking Street, LK Metro and soi 6.
Top guest friendly guest houses Pattaya
It's probably the best value for money guest house on Walking Street with a very friendly Swedish owner. The rooms are clean with comfy beds, good air conditioning, fast and free Wi-Fi, LCD TV and in-room safe. Budget rooms are small but very cheap. Superior rooms are huge, with sofas, microwaves, clean bathrooms, and balconies. No elevator but the top-floor rooms at the back are very quiet. Above all, you can bring back to your room as many girls as you want if you book a room for two people.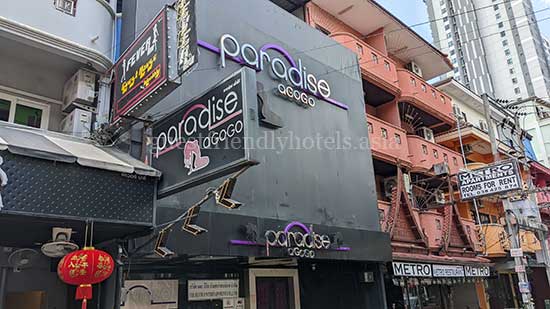 Likely the best location right on LK Metro and value for money accommodation. It's a party location, so rooms at the front can be noisy. However, their largest rooms at the back are quiet. The rooms are spacious with king-size beds, excellent wi-fi, cable TV, electronic safe and balconies. There are many beer and go go bars all around the place.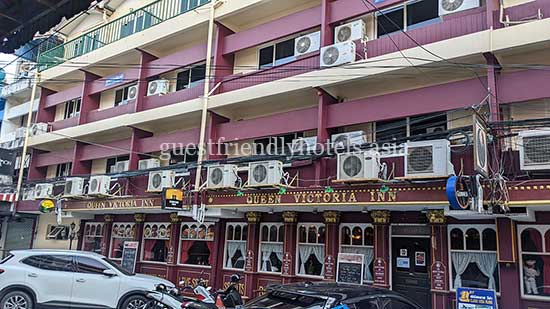 Queen Victoria Inn is located right on Soi 6. Most bars on Soi 6 have short time rooms upstairs but if you prefer better rooms this place is for you. They have budget, superior and deluxe rooms with air conditioning, in-room safe, cable TV, free Wi-Fi and daily maid service.  Moreover, if you book this accommodation, you can use the Holiday Inn pool free of charge!
Bluebird Inn has a good quiet location just off Soi Lengkee and within walking distance to LK Metro. The rooms are cheap but very clean with good air conditioning, a fridge, an in-room safe and free Wi-Fi. Most rooms and not very large but some have big bathrooms.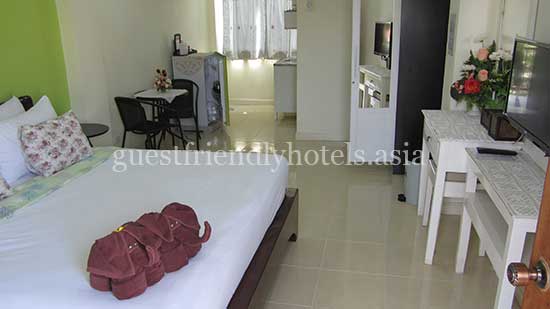 It's an excellent guest friendly guest house in Pattaya right at the back of the soi Metro area but quiet location. The rooms are new, big and clean with huge beds, free Wi-Fi, LCD TVs and in-room safes. No elevator, so avoid the top floors if you are not fit enough. The bathrooms are simple but clean.
6. Yoyo Guest House $19+ (permanently closed)
The rooms are small and basic. However, they are cheap, nice and clean. The location is unbeatable, right on LK Metro, but not for light sleepers. You get a key card to enter the guest house and nobody cares how many girls you bring back to your room.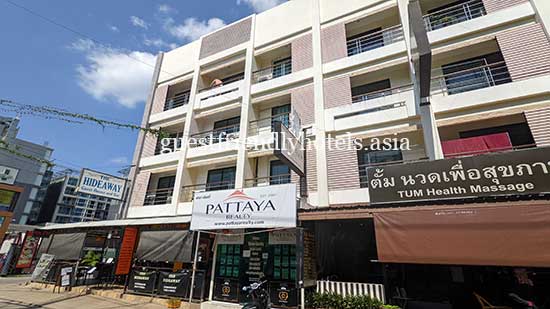 Not the cheapest guest house but it is better than many hotels. The standard rooms are as good as the deluxe rooms and have balconies too. All rooms are very spacious with good beds and are cleaned every day. Smart TV with many channels, high-speed wi-fi, and they also provide complimentary tea and coffee. There is a bar with a pool table downstairs. The Hideaway guesthouse is very guest friendly and you can bring two girls at the same time to your room. There is also a very discreet side entrance to avoid a walk of shame.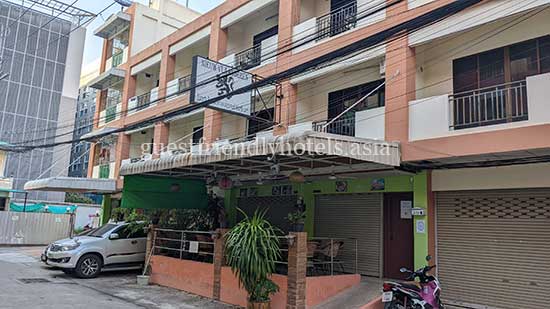 Nieuw Vlaanderen has probably the most quiet location of all guest friendly guest houses Pattaya on my list. Less than a five-minute walk to LK Metro, and you can take the baht bus to Walking Street, almost in front of the guest house. Most rooms are nice and large, except their standard room on the ground floor, so avoid it. Even though bathrooms are small, most amenities are nice, comfortable king-size beds, sofas, cable TV, safe and balconies.
Guest friendly guest houses Pattaya list
Click on the guest house name from the guest friendly guest houses Pattaya list for booking and more information.
All guest friendly guest houses Pattaya on the list below have free wi-fi.