The best guest friendly hotels in Koh Samui are located close to nightlife. It's one of the most expensive places in Thailand with lovely beaches but the nightlife is nothing like Pattaya or Phuket. Also, not all hotels are guest friendly.
There are two main areas in Koh Samui – Chaweng and Lamai. Both have many hotels and bars, but Chaweng is more developed and Lamai is smaller and quieter. Chaweng is the best place to find many pretty girls and the only choice to party during the low season. The best party areas in Chaweng are soi Green Mango and soi Reggae with many beer bars and girls. There are also two go go bars – Dream girl with Thai girls and Galaxy with Russian girls. I think the best part of Chaweng and Lamai are the massages with extras. See the updated info below.
Guest friendly hotels Koh Samui 2022 update
Some hotels and bars are still closed but many have reopened. Ark bar beach resort and the bar are temporarily closed but they have a new party place right next to them. It's called Surf Up and has a great party atmosphere and fire shows at night.
Lamai Wanta beach resort is now The Hive and is still guest friendly. J4 hotel Samui is a guest friendly hotel. You can see the confirmation below. P & P Samui resort is permanently closed but their sister hotel, O.P. bungalow, is open.
Most beer bars on soi Reggae and soi Green Mango are open. All they have working girls but don't expect young stunners. It's nothing like Pattaya, Patong, or Bangkok, so you better find a holiday girl from there. Galaxy is closed and the other go go bar in Koh Samui, Dream girl, is open but no talents there.
Lamai also has beer bars and girls but it's even worse than Chaweng. There are plenty of empty bars with few girls and no customers. However, there are cheaper accommodations and almost empty beaches to enjoy.
Koh Samui bar girl prices: The bar fine is up to 500 baht, 1000+ baht for short time (low season price) and 1500-2000 baht for the whole night. Lady drinks are less than 200 baht.
Koh Samui massages: The standard massage prices are 300-400 baht and up to 2000 for the girl, depending on her service and your negotiation skills. No more than 500 if it's only a hj. In some places, they ask for upfront payment. The rates are much higher at high-end massage parlors. The Japanese nuru massage place Ki-Mo-No is now Pannarai. You can find the latest rates on their website.
Koh Samui freelancers: The best place to find freelancers is the Green Mango club. Also, the internet works fine. There are some girls on Tinder and Thaifriendly. The rates start at 1000+ baht for short time.
Top guest friendly hotels Koh Samui
Top guest friendly hotels Koh Samui – Chaweng Beach map
1-7 – top guest friendly hotels Koh Samui Chaweng beach; G – soi Green Mango party area
Top guest friendly hotels Koh Samui – Chaweng Beach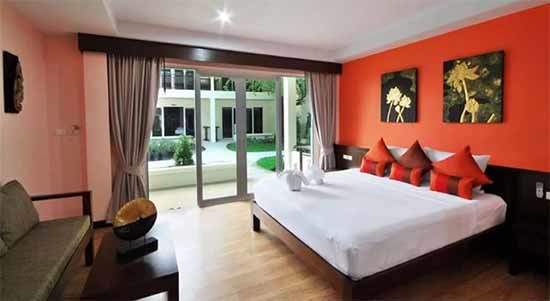 The Ark bar beach resort is a guest friendly hotel right in the middle of everything. Right on the beach and close to the beer bars and girls. If you want to party, it's the best hotel in the area. The atmosphere is great, and the pool is lovely. The food and drinks at the restaurant and the bar are excellent. I love the cocktails! The staff is really attentive. Very good rooms with tv, free wi-fi, aircon and safe. If you are a light sleeper, ask for a room away from the pool and beach area.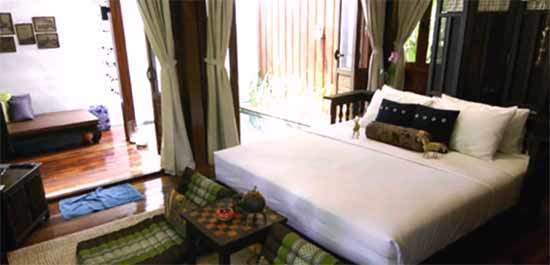 I stayed once at Chaweng garden beach resort and would stay there again. Excellent location in the centre of Chaweng. Close to the bars, restaurants and clubs, but far enough away from any noise. It is located right on the beachfront with a nice lounge area, spotless and well-maintained: comfortable king-size beds, decent renovated showers and toilets, good aircons, and kettles with coffee and tea. There is free wi-fi everywhere. The restaurant is nice but the service is a bit slow.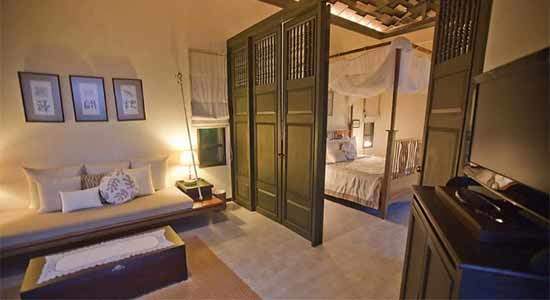 It's a fantastic guest friendly high-end hotel in Koh Samui. The hotel is located far enough away from the busy chaweng beach in a quiet area but close enough if you want the hustle and bustle. Ten minutes walk to nightlife. You can enjoy the breakfast, the pool and the private beach. The rooms are absolutely fantastic with huge balconies and baths, everything you need there. Book a room with private pool access. Excellent food and plenty of choices on the menus. The bar serves some amazing cocktails.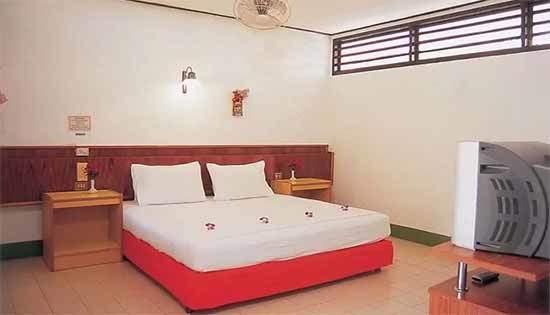 The O.P. Bungalow is probably the best budget option for a guest friendly hotel in the area. It's in a perfect location on the beach, within walking distance to nightlife and the new shopping mall. Close to many bars but far away enough for a peaceful night's sleep. The rooms are basic but clean with aircon, comfortable beds, tv, free wi-fi and hot water. Very friendly staff. Restaurant on the beach with delicious food.
J4 has an unbeatable location, as the party areas of Chaweng are right across the street.
Guest friendly policy: "We don't charge the joiner if the number of guests is not over the room's standard but please let us copy your I.D. card or Passport for security reasons."
Top guest friendly hotels Koh Samui – Lamai Beach map

1-9 – guest friendly hotels Koh Samui Lamai beach; L – Lamai beer bar area (main party area with dozen beer bars)
Top guest friendly hotels Koh Samui – Lamai Beach
1. The Hive Hotel Samui *** $55+
It's the former Lamai Wanta beach resort, a bit more expensive but well worth the extra money. The place looks even better than before. It's a fantastic beachfront guest friendly accommodation within walking distance to beer bars.
2. Lamai Inn 99 Bungalows *** $32+
3. Bonny Hotel ** $19+
4. Samui Jasmine Resort **** $90+
5. Am Samui Palace Hotel *** $44+
6. Pavilion Samui Villas & Resort **** $110+
7. Marina Villa *** $33+
8. Holiday Park Hotel *** $30+
9. Weekender Resort *** $51+
List of guest friendly hotels Koh Samui
Click on the hotel name from the list for booking and more information.
Not all guest friendly hotels Koh Samui on the list below have free wi-fi.