Guest friendly hotels Siem Reap 2019 update: I came back from my last trip to Siem Reap in 2019. As more and more hotels started to charge a joiner fee ($10-$20) is very important to check their guest friendly policy before booking. This time I stayed at Angkor Honey Villa, see photos and review below.  The freelance places mentioned below are still in business. Siem Reap bar girl prices updated too.
Tip: It's much better to find a girl in Phnom Penh and bring her to Siem Reap. Then simply enjoy the temples and the food. The Siem Reap bar girl scene is too small and overpriced.
Where to find girls in Siem Reap?
Mickey's bar is still the only hostess bar in Siem Reap. Freelancers can be found at night near the entrance of the Pub street and close to Night market. You can try also X-Bar or Tuk Tuk bar late at night. Some girls will try to ask for up to $80-100 for short time but $40-50 is a fair price. Another option is to ask a tuk tuk driver to find a girl for you but expect to pay more.
In 2016 I took tuk tuks twice as Mickey's bar was almost empty. The first night the tuk tuk driver brought me to brothels with Khmer and Vietnamese girls. The asking price was $40 but there was nothing to my taste. The second night I went to KTV Tom Town, a lot of stunners there. They asked for $60 but after short negotiation I took a cutie for $50 and brought her back to my hotel.
Top guest friendly hotels Siem Reap
My favourite hotel on the guest friendly hotels Siem Reap list. I stayed there three times. Excellent girl friendly hotel in a great location. Only 3 minutes walk to the Night Market and the famous Pub Street with a lot of bars and eating places. Spacious nice decorated rooms with comfy beds, clean bathrooms, sitting area, strong wi-fi, aircon, desk, safe, LCD TV, mini bar. Very friendly staff. The hotel has two swimming pools.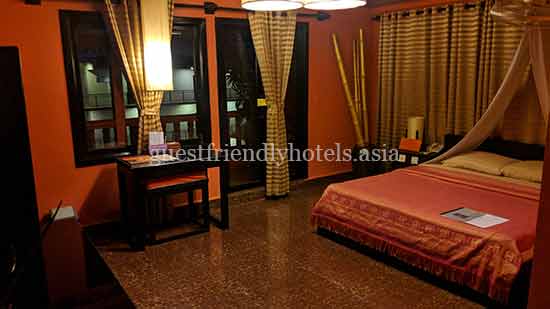 Golden Butterfly Villa has a great location, only a short five minute walk to Pub Street. It's important to book a quiet room not facing the school nearby. Upper-floor deluxe rooms with balconies are huge with large beds. There are also two desks, TV, in-room safe and excellent free Wi-Fi. The bathrooms are new and clean. The hotel has also nice restaurant downstairs and small fish pond. They offer also one free normal massage per guest with every booking.
Update 2019: It looks like the villa is permanently closed. Angkor honey villa is an excellent budget guesthouse in a great location. Five minute walk to Pub Street and Night market. Big, clean rooms with good aircon and strong wi-fi. Bathrooms with hot water. Extremely friendly Japanese owner and staff. Basic breakfast.
Update 2017: It's the former Karavansara Retreat. I don't have new room photos. Nice guest friendly hotel in a perfect location.  Five minutes walk to the Pub street. Clean rooms with comfy beds, nice balconies and free wi-fi. Super friendly and attentive staff. There is a rooftop pool, excellent restaurant and bar.
Excellent 5 star guest friendly hotel at a reasonable price. You can get a real bargain during the low season or last minute deal from agoda.com. The hotel is in quiet surroundings. Very nice garden and fantastic facilities. Spacious rooms, spa and huge pool. Incredibly helpful and friendly staff! The only downside is that the hotel is located a bit far from the action and the Pub street. You can use the free shuttle provided by the hotel or take a tuk tuk ($3 from the hotel, or $2 from the street).
This is maybe the best budget girl friendly hotel on guest friendly hotels Siem Reap list.  Basic accommodation but convenient location. It's just far away enough to be in a quiet area, but you are in the middle of the action within minutes. Just a five minute walk or $1 tuk tuk ride to the Pub street. The rooms are spacious for the price with TV and free wi-fi. The manager is friendly and helpful.
Sortable list of guest friendly hotels Siem Reap
Click on the hotel name from the guest friendly hotels Siem Reap list for booking and more information.
Sort the guest friendly hotels Siem Reap list by clicking on one of the column names: hotel name,stars,features,price.

Guest friendly hotels Phnom Penh
Guest friendly hotels Sihanoukville