Most of the best guest friendly hotels Ho Chi Minh (Saigon) on my list below are located in District 1, close to the nightlife and bar girls. Check also my Ho Chi Minh girls guide for more information about the Ho Chi Minh girl prices, locations and other useful tips.
Vietnam is a communist country and most of the hotels have a very strict visitor policy. Almost all (high-end) hotels won't allow you to bring local girl back to your hotel room at night. During the day their policy is not so strict and you can bring girls to your room until 10 p.m. However, there are some exceptions below.
Guest friendly hotels Ho Chi Minh 2020 update
I finally found some time to update my post after my last trip in February. First of all, I had a great stay at Luan Vu Hotel again. The hotel has a new owner but it's still very guest friendly. I booked a short stay at Duc Vuong hotel too, review and more info below. A friend of mine stayed at Benh Thanh Station house, so it's added to the list with some other confirmed guest friendly hotels in Ho Chi Minh. Cherry hotel is recently renovated. Thien Xuan hotel has a new name, probably new owner, so their guest friendly policy is now unclear.
Top guest friendly hotels Ho Chi Minh (Saigon)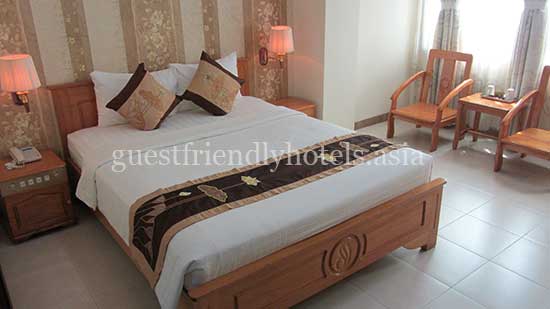 It's the former Ho Sen Hotel and probably the most famous guest friendly hotel in Ho Chi Minh, right in District 1. I stayed there once as it is good value for money. The hotel is located close to the famous Apocalypse Now disco where you can find many girls late at night and there are lots of international and local restaurants nearby. It has clean, comfortable rooms with wi-fi, safe, desk and a good supply of toiletries but standard rooms have no windows. However, deluxe rooms are huge and much better with bathtubs and nice bathrooms. Last but not least, the hotel staff are friendly, helpful and speak good English.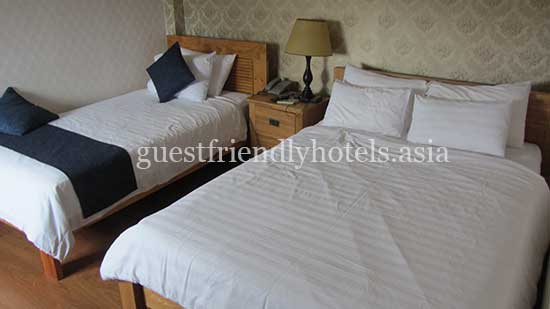 I stayed there four times in the last few years. The hotel has only one star but deserves more. The location is in the middle of Bui Vien Street with many cheap eating places and massage salons nearby. Moreover, the staff confirmed that the hotel is guest friendly which is not the case in most places. Deluxe rooms are very good and quiet. They have desk, nice TV and in-room safe. Clean bathrooms and also excellent wi-fi. Standard room are too small and not much cheaper. The hotel has no elevator but the rooms on the higher floors are very quiet.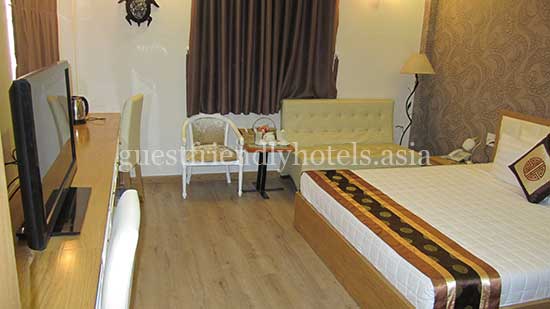 Minh Vy hotel is a real gem, much better than before with recently renovated rooms and excellent wi-fi. Moreover, the reception guy can find girls and bring them direct to your room. Nice budget option on guest friendly hotels Ho Chi Minh list. Close to Ho Chi Minh nightlife and entertainment and walking distance to beer bars, restaurants and sights. It has also good rooms with free wi-fi, safe, aircon, TV, desk, coffee/tea maker. Standard rooms are too small and don't have windows. Deluxe rooms are much better but the vip room is the best option. It is huge with nice bathroom and clean toilet.The pics in Agoda show exactly the real hotel condition but you can see my pics too.
The hotel has a very central location, close to Ben Thanh market and some high class places like Catwalk. Bui Vien area is less than ten minute walk and there is a night time food market. Some lower floor rooms can be noisy, so book on a higher floor for more quiet room. All rooms have simple but nice facilities, flat TV, efficient aircon and safe.
Like many other hotels in Ho Chi Minh, there is no official policy if the hotel is guest friendly. However, there is a sky bar, people coming and going all the time and nobody cares who you bring with you. I brought back to my room two girls without any issues. Rooms at the front can be noisy, so ask for a high floor room at the back. Standard rooms are too small and don't have windows but all other rooms are great.  The beds are very comfortable, bathrooms are clean and some have bathtubs. In addition, the Wi-Fi connection is strong.
Please note that the hotel has a small joiner fee for visitors after 10 p.m. but considering all the hassle in many other hotels in the area and the room quality and location, it's still a good option. The hotel has a great party location, right in the heart of the action of Bui Vien Street and therefore everything is within walking distance – bars, restaurants, coffee shops. Probably the most famous place in the area to pick up freelancers, go2 bar, is right across the street. However, it's a party area and not for early to bed people. The hotel has two blocks and the Bui Vien part has more quiet rooms. The rooms there are also better, huge and clean with nice bathrooms and showers with good water pressure. The beds and pillows are very comfortable too.
Cherry hotel is a famous guest friendly hotel in the Japanese area, so you can bring visitors without any issues. The rooms are recently renovated, clean and quiet but don't expect luxury. However, the breakfast is very good and there are some English TV channels.
All the information below is from my previous trips and from blog visitors. Not all hotels are checked again in 2020!
List of guest friendly hotels Ho Chi Minh (Saigon)
Click on the hotel name from the guest friendly hotels Ho Chi MInh (Saigon) list for booking and more information.
All guest friendly hotels Ho Chi Minh (Saigon) on the list below have a free Wi-Fi.