The best guest friendly hotels in Krabi are located in the Ao Nang beach area, the center of Krabi nightlife. Most beer bars are located on Soi RCA. It is a smaller version of Bangla Road in Patong with about a dozen bars.
Guest friendly hotels Krabi – Ao Nang 2023 update
I came back from my last trip to Krabi-Ao Nang in 2023 and stayed again at Golden Beach Resort (see the pics and review below). Dusit D2 Ao nang is now Holiday Inn Resort and it's joiner friendly. Harvest House is temporarily closed.
Last year I found two more excellent hotels, Bluesotel Krabi and Aonang Villa Resort. Both accommodations are guest friendly, as confirmed by the management.
Some places to avoid: Aonang Princeville villa doesn't allow joiners and The Verandah has an 800 baht joiner fee, so better avoid them.
The RCA Entertainment complex is still there and it's open. Unlike before, not all bars are beer bars but there are a few bars with working girls. Some bars with nice live music along the beach road are open too. Most massage places don't offer extras. If they do, expect to pay 400 for the massage and 1500 FS.
Krabi Ao Nang bar girl prices 2023: The prices are similar to last year. Lady drinks cost 200 baht, the bar fine is from 500 up to 1000, and for the girls expect to pay 2000 for short time and 3000 for the whole night.
List of guest friendly hotels Krabi
Guest friendly hotels Krabi – Ao Nang map
1-5 – top guest friendly hotels Krabi – Ao Nang; R – soi RCA Entertainment
Top guest friendly hotels Krabi – Ao Nang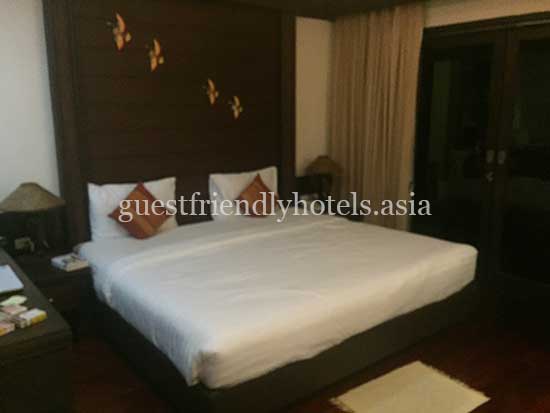 Guest friendly hotel in a perfect location. I stayed there in 2019 and 2016. Just a short walk to the beer bars, restaurants and shops and less than a three-minute walk to the beach and the pier to make day trips. The rooms are stylish, spacious and clean. Some rooms have weak Wi-Fi signals, so ask in advance if it's important to you. Nice and clean bathroom with a bathtub. Lovely pool area and the staff are friendly and helpful.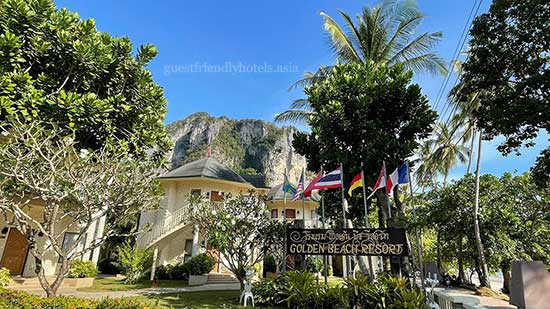 It's a beachfront accommodation within walking distance to the RCA beer bar area. Deluxe rooms are good enough with a pool view, but the resort also has villas and pavilions for a more luxurious experience. Even the cheapest room has a flat-screen TV, desk and in-room safe. The wi-fi is not very good, so better to buy a local sim card for the internet. The bathrooms have bathtubs but no separate showers. The pool is really huge and clean. There is a lovely green area outside with magnificent views of the cliffs nearby.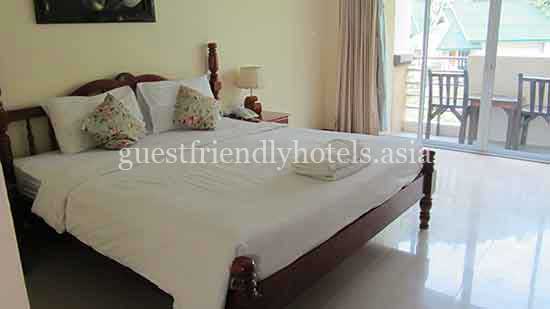 I stayed in Pranang Flora House Hotel in January 2015 for six days and found it very convenient and comfortable. One of the best value for money guest friendly hotels in Ao Nang Krabi and one of my favourites on the guest friendly hotels Krabi list. The rooms are spacious with balconies and nice big comfy beds, AC, fridge, hot water, TV and bathtub. Very friendly staff. Moreover, the receptionist arranges tours for a reasonable price. Short walk to the beer bars and restaurants and less than ten minutes to the beach, or you can take a tuk tuk for 40 baht. The only downside is the absence of an elevator.
The hotel has an excellent location for bars and the beach and the RCA bar area is less than 3 minutes away.
Guest friendly policy: "Please be informed that we do not charge joiner fees, but the hotel will require a copy of a joiner's passport or ID Card at the time of check-in. Sorry for the inconvenience caused."
Aonang Villa has an excellent location to the beach, and it's not far from the beer bars.
Guest friendly policy: "There will be no joiner fee. However, the joiner has to contact the front desk for mandatory registration and provide the ID card before access to the guest room."
6. Harvest House *** $17+ (temporarily closed)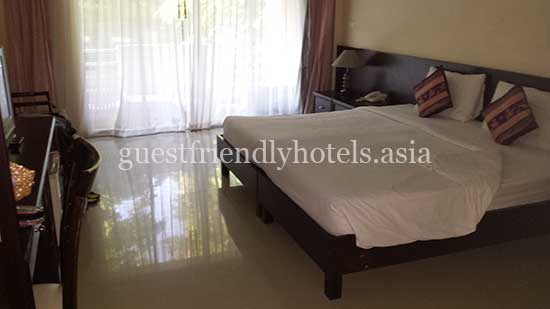 2019 update: The hotel has recently renovated rooms but I still don't have any pics. A friend stayed there in 2016, so I checked his room and took a pic. It's right next door to Pranang Flora House Hotel. It's ok for the price but I think Pranang Flora is better. (See the review above)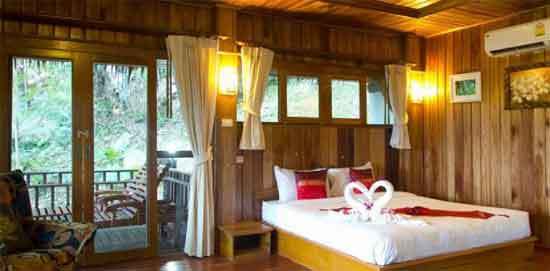 Ao Nang Cliff View Resort is a guest friendly resort a bit far from the center of Ao nang, Krabi, but it is the perfect place to relax and avoid noise. The hotel is located in a mini jungle by a cliff. They provide a free ride into town every hour. Many restaurants and great massage places nearby. Don't book the cheapest rooms. The fan rooms are too small and basic. The standard rooms with aircon are comfortable, clean and great value for money. The swimming pool is fantastic and very well maintained.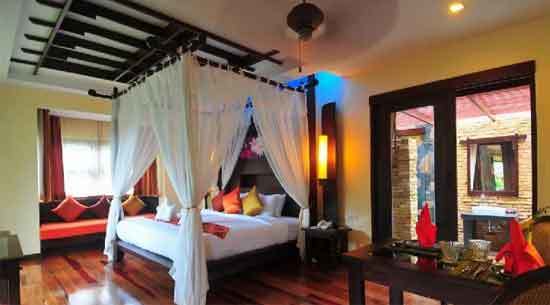 The Ao Nang Phu Pi Maan Resort and Spa is an excellent high-end guest friendly resort. It's not a beach hotel but it's in a quiet location. You can either use the free two-way shuttle to the beach or walk for 10-15 minutes. The shuttle service is available at any time of the day or evening. Plenty of bars and eating places down the road. Stunning mountain and cliff views from the rooms. Huge, clean and cozy rooms with lovely balconies. Nice and friendly staff and a fantastic swimming pool.
List of guest friendly hotels Krabi
Click on the hotel name from the guest friendly hotels Krabi list for booking and more information.
All guest friendly hotels Krabi on the list below have free Wi-Fi. The prices are the lowest possible. Most places have higher prices in the high season.