Hotel Amber is a guest friendly hotel in Pattaya and you can bring visitors without extra charges. It's a new hotel, part of At Mind group and all their hotels are joiner friendly. I stayed there once and will stay again in the future. You can read my review below. Click on photos to enlarge. You can check also my full list of guest friendly hotels in Pattaya.
Pros & Cons
Pros
Quiet location
New hotel with modern facilities
Very close to LK Metro and many eating places and bars nearby
Close to baht bus route to Walking Street
Cons
Far from Soi 6
The swimming pool doesn't get much sun
1000 baht deposit at check-in but you get it back at check-out
Location
Hotel Amber has a very quiet location as it's not right on the main road. It's close to the most famous party places in Central Pattaya but away from the noise. It's only a five-minute walk to LK Metro bars and less than three to Tree Town and the baht bus route to Walking Street. However, you have to get Bolt or moto taxi to Soi 6 as it's a twenty-minute walk to get there.
Rooms
Hotel Amber has mostly deluxe rooms and they are big and good enough for a more budget stay. However, I love to stay in their grand deluxe rooms to get extra space, a sitting area and a bigger bathroom. The rooms are fresh and clean with minimalist design.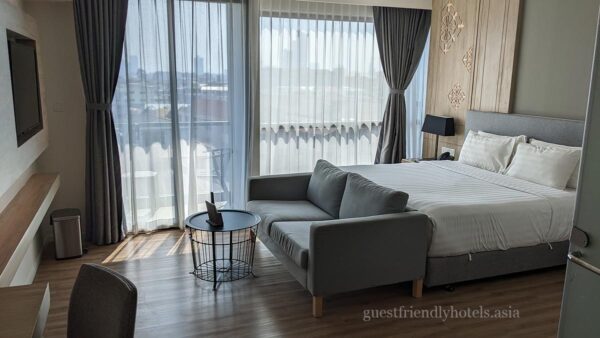 The hotel has probably the most comfortable king-size beds in Pattaya. They are huge with soft mattresses and nice pillows.


Near the bed, there are power outlets, USB sockets and a mood lighting control.


The flatscreen smart TVs are big and new with many tv channels. I really love the quiet and efficient aircons and their location far from the bed.


The sitting area is nice with a comfortable sofa and a table.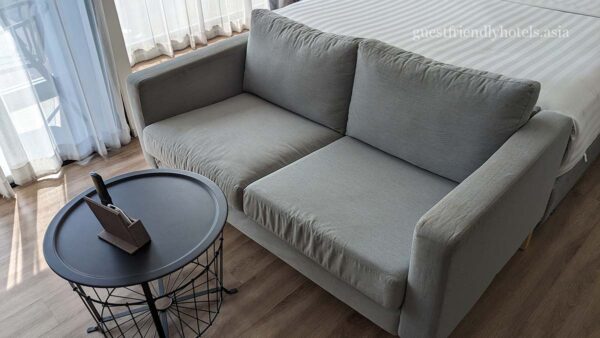 There is also a small desk with a chair. The free Wi-Fi is very fast for working with a laptop and no need to log in every day.


The hotel provides two free bottles of water every day and there are coffee and tea-making facilities. There is no closet but plenty of space and hangers for your clothes. There are also two bathrobes and a torch. The fridge is a decent size and quiet but empty. So you have to buy drinks from outside or call the room service.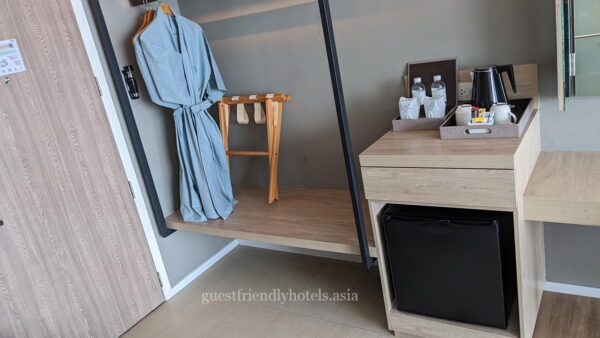 Near the door, you have extra space for your suitcase, a large in-room safe and slippers.


All rooms have nice bathrooms with separate toilets but grand deluxe rooms have even bigger bathrooms with extra space and bathtubs. All necessary toiletries are provided – soap, toothbrush, toothpaste and body wash. The towels are new, fresh and changed daily.


All bathrooms have nice rain showers with good water pressure.


Room tip: If you are a light sleeper like me, book a room on a higher floor at the back. They are the quietest as poolside rooms can be noisy on weekends.
Facilities & Staff
All facilities are new and modern. The hotel has a very nice 2-level outdoor swimming pool in a green garden with a bar and a sitting area. It's very clean, well-maintained with many sun loungers available. However, the pool area doesn't get much Sun.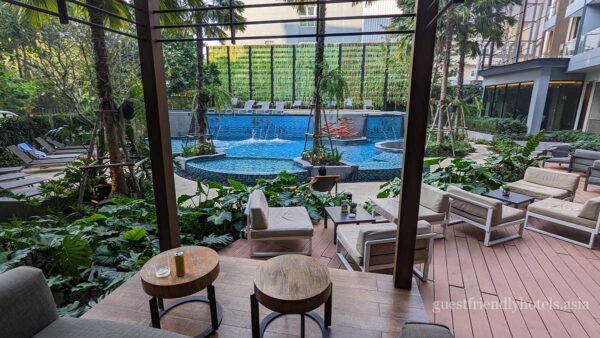 There is also a small gym and the elevator is modern and fast.
The breakfast at the restaurant is not bad but better book a room only as there are plenty of cheap eating places in the area.
The staff are very friendly and helpful. There are three people at the reception, so the check-in/out is always fast. The check-in starts at 2 pm but you can check in earlier if they have rooms available.
I love the late maid service at 4-5 pm, so I can sleep till late.
The security is very good and you can feel safe all the time.
Hotel Amber Pattaya guest friendly policy
Amber Hotel Pattaya is guest friendly if you book a room for two people and stay alone.
Official policy: "If you stay alone free of charge 1 visitor a day But if you stay 2 people we charge 300 THB per day per night."
Personal experience: I booked a room for two, stayed alone and brought one girl at a time without any joiner fees. The policy of one visitor a day is not strictly enforced but they ask for your visitor ID. However, they treat your guests with respect which is not the case in many hotels in Pattaya.
Tip: You can use the underground car parking, bypass the security and take the elevator but it's not recommended. ID checks are for your own safety.
Price
Deluxe rooms are very good value for money for a 4-star hotel in Pattaya but if you need extra space book a grand deluxe room. The low season price starts from $40 for their cheapest rooms. Check the Hotel Amber Pattaya rates on Agoda.